With Individualized Guide Support
We know what you're looking for.
You're looking for ways to be more focused and effective. As an entrepreneur, you have big plans and dreams, but you often get distracted by less important things that prevent you from achieving your goals, or at least slow you down. You've realized you aren't organized around your success and you're looking to create a better plan.
We get it; we've searched for the same things.
It's why Ascendeur developed the Results Accelerateur™ with Individualized Guide Support.
With our Results Accelerateur™ you'll get:
Better Results, Faster
to get where you want to go in less time
Increased Focus and Effectiveness
with fewer distractions
More of What You Want in Your Business
and life and less of what you don't want
To Rediscover and Enable Your Purpose
for more impact in your business and your life
An Elevated Entrepreneurial Journey
and peer group experience
Our Results Accelerateur™ with Individualized Guide Support Consists of: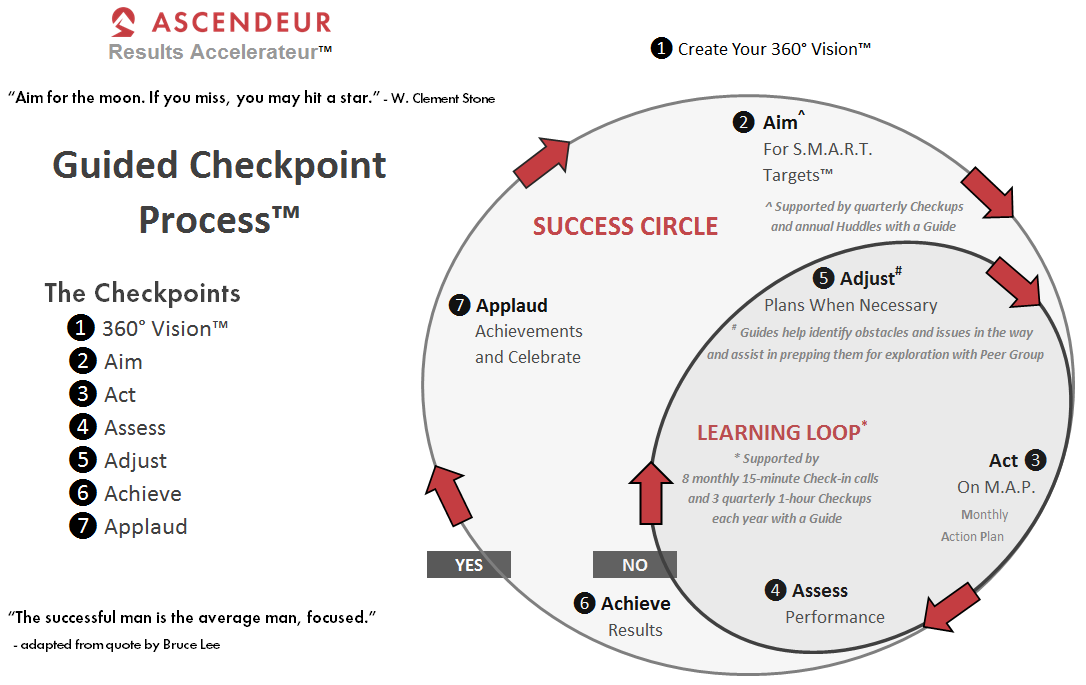 Structured Program
Our structured programming keeps entrepreneurs on the path to success.
Guide Delivered
Our expertly-trained guides deliver high quality entrepreneurial training.
Success Plan
Development of your 360° Vision™ and annual S.M.A.R.T. Targets™ to clarify goals.
Whole Focus
Focused on the whole you: Self, Family, Tribe, and Business.
Guide Partnering
7 hours of 1-on-1 guide partnering with monthly check-in and quarterly checkups
Results Evaluation
Annual results evaluations with a guide to assess results and plan for next year.
Peer Group Preparation
Assistance with Peer Group Exploration Prep for issues and obstacles in your way
You wouldn't climb Mt. Everest alone.
Your entrepreneurial journey should be no different.